Laser tube light path adjustment is a problem for many laser equipment users. HITEC now is teaching you how to adjust the light path of CO2 laser tube.

Basic Principl
Most of the laser equipment uses a flying optical path system. The laser is emitted from a laser tube (laser generator) and reflected by three plane mirrors (mirror 1#, mirror 2#, mirror 3#).
Finally, focused by the focusing lens and then emitted to the work surface. No matter the light coming out from which side, the principle is same.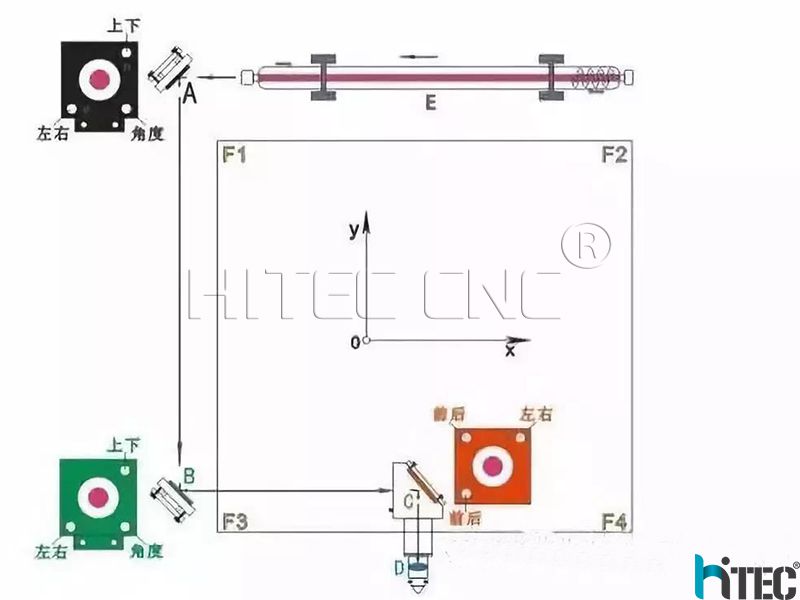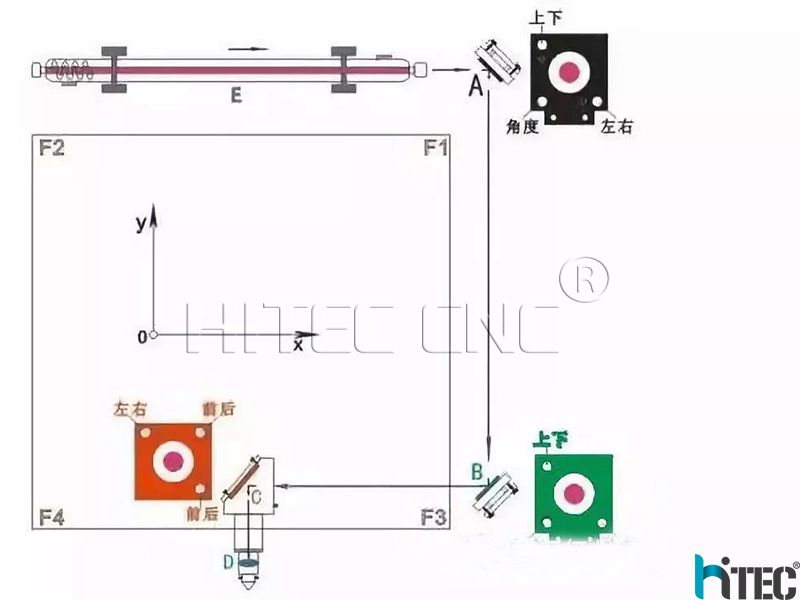 Why should adjust the CO2 laser tube light path?
Long-time operation, if mirror loosen, will cause the laser light path to error shift, so that the laser can not output from the jet cup mouth,
resulting in problems as vertical cutting and slow cutting speed, then the laser device can not perform perfectly, thus affect production efficiency.
Therefore, it is very necessary to check and adjust the optical path regularly.

Steps to adjust the light path of the CO2 laser tube
Step 1, Adjust the carbon dioxide laser tube current and reduce the laser tube power.
Step2, Adjust the laser generator to the mirror 1# light path

1.Ensure that the light beam emitted from the laser tube is reaching on the 1# mirror;

2.Sticking three or more layers of double-sided adhesive tape together to cover the mirror 1#;

3.After the double-sided adhesive tape is glued, press the button on the control panel, and the laser will make a mark on the double-sided adhesive tape.
Adjust the mirror`s position to ensure the mark spot on the middle of the mirror.

Step3, Adjust the mirror 1# to the mirror 2# light path

1. Remove the double-sided adhesive tape adhered to be mirror 1# and stick it on the mirror 2#;

2. Lightly move the beam forward to the nearest position of the mirror 1#, press the button on the control panel, and mark it;

3. Remember the mark and keep the position of the double-sided adhesive tape stable. Take the mirror 1# as a reference,gently push and move the beam from near to far down ,
and test it multiple times to see if the marks printed by the laser are coincident.;

4. If not coincident, adjust the lens angle by adjusting the three adjustment screws on the mirror frame 1# until the spots on are coincident.

Step4, Adjust the mirror 2# to the mirror 3# light path

1.Remove the double-sided adhesive tape adhered to the mirror 2# and stick it on the mirror 3# (if is debugging too much, replace the double-sided adhesive tape);

2.Lightly move the beam from right to the left, reach nearest position of the mirror 2#, press the button on the control panel to mark it;

3.Remember the mark and keep the position of the double-sided adhesive tape stable. Take the mirror 2# as a reference,
slide the beam from left to right and test it multiple times to see if the marks printed by the laser are coincident.

4.If not coincident, adjust the lens angle by adjusting the three adjustment screws on the mirror 2# until the spots are coincident.

Step5, Adjust the mirror 3# to the optical path

Stick double-sided tape to the light-inlet on the front of the mirror 3#, and press the button on the control panel to mark it. If it is at the center, it is qualified.
If it does not coincide, please use the above method to re-adjust the light path until it coincides.

Step6,After the four points are adjusted to coincide, let's see if this point is in the center of the laser head entrance hole. If not, turn off the laser power and adjust the position of the laser tube.
If it is left and right offset, which side is biased, which way should go.

For example: spot on the left, adjust the laser tube to the left; spot on the right, adjust the laser tube to the right. If it is offset up and down, adjust it in the opposite direction,
means if it is up, adjust the laser tube downwards; if it is down, adjust it upwards. (The above adjustments are only for the negative tube of the laser tube (light-emitting end).
If the positive end of the laser tube need to be adjusted to achieve the same effect, the direction is reversed.)